The King's Speech is a British historical drama directed by Tom Hooper starring Colin Firth and Helena Bonham Carter. This film, which was released in 2010, tells the story of the future King Georges VI who is forced to see a speech and language therapist in order to cope with his stuttering. They eventually become close friends and, after Edward VIII abdicates the throne in 1936, George has to lead the country. However, because of his stuttering, he tends to feel insecure about himself. He therefore sees a challenge in the first wartime radio broadcast on Britain's declaration of war on Germany he had to make in 1939.
The scene that moved me the most was actually the one we saw in class, when he gives the speech conducted by his therapist. Indeed, we can see that all of his work finally paid off. At the end, Logue tells the king he still has trouble with the "w" to which the king answers that he had to throw in a few mispronunciations so that people would recognize him. It really shows that he has a lot of self-mockery. The movie kind of ends on a funny note. Also, there's a card in the end explaining that Logue and the king remained friends and that he helped him with every one on his speeches. Nevertheless, I think that they weren't that close in real life. For instance, there's a moment in the movie when Logue calls the king « Bertie » (because is name is Albert); I don't think it ever happened. They may have changed the story a bit so that the viewers would find it more enjoyable but that's just my opinion.
In any event, I really liked the movie when I saw it for the first time, mostly because I guess I am a huge fan of Colin Firth! Yet, it's not boring as you expect a historical drama to be. It's actually quite refreshing and I found the soundtrack truly amazing.
Marie
____________________________________________________________________________________________________________________
Our DNL teacher has recently decided to start with a « Ciné Club » at school. All the English European classes are invited to watch different films in their original soundtracks at least three times a year.
We had our first session on December 14th with The King's Speech by Tom Hooper (2010). That day, we met up all together (the students from the 2nd and 1st levels) and we discovered the true story of queen Elisabeth II's father, Georges VI. It tells the story of a king (1937-1952), but it's also about the friendship he had with his therapist, Lionel Logue. Most of us enjoyed this film very much. Watching a movie in the original language is definitely a great opportunity to improve our oral comprehension skills, and so, we were able to learn various new phrases. We also think that's good to get used to listening to different accents.
We are going to see Sing Street (an Irish film by John Carney & released in 2016) very soon. We hope that 2nd movie is as good as the first one.
Yaelle & Elorri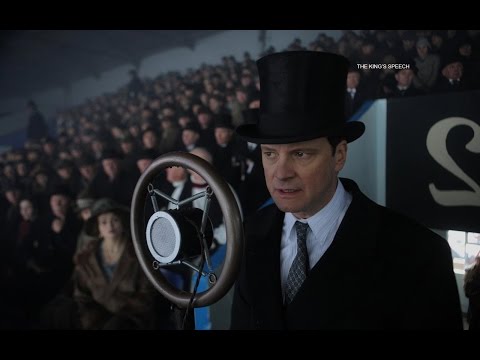 _______________________________________________________________________________________________________________________
The King's Speech*
Following the death of George V, his eldest son was in line to be the next king but he abdicated, choosing to marry an American divorcee named Wallis Simpson. Next in line was Bertie, but initially he did not wish to be king because he had a stammer and he didn't want to give speeches in front of people. Albert's wife found an Australian speech therapist, called Lionel Logue, who had a lot of previous experience and took a novel approach when treating his patients. His techniques were unorthodox and he didn't have a medical degree although the king did not notice at first.
The king was reluctant to attend this therapy but upon hearing a recording of his voice, taken during the first session with Lionel he changed his mind and decided to go back. The king worked with Lionel every day on various exercises to improve his breathing and vocal cords as well as pronunciation and elocution. Over time the two men built up a trust and spoke about many personal things, with a friendship developing between them. Although one day, during a stroll in the park, they had a disagreement and parted ways in bad form.
However, Bertie returned to Lionel apologising for his behaviour and asking for his help to prepare a speech for the coronation. Thanks to Lionel's therapy, Bertie was able to give a speech without any difficulty. Meanwhile, in Europe the Nazis were growing in power and invaded Poland; so as a result Britain declared war on Germany. The king needed to give a very important speech encouraging the people of Britain to unite, to stay strong, and to be confident in their victory. This was the biggest speech of his life being broadcast on the radio to millions of people, so there was a lot of pressure on Bertie. Nevertheless, he succeeded in giving a very motivational and inspirational speech.
Lionel and Bertie remained friends until their deaths.
* Collaborative work – English European Section Level 1ère.