Happy go lucky is a 2008 British comedy drama film written and directed by Mike Leigh.
Mike Leigh is a 76 years old English writer, as well as a film and theatre director. His most notable works are the black comedy-drama Naked (1993), for which he won the Best director award at Cannes, the Oscar-nominated, Bafta and Palme d'or winning drama Secret and lies (1996), the Golden lion winning working-class drama Vera Drake (2004), and the Palme d'or nominated biopic Mr Turner (2014). He usually uses a style of social realism, which depicts the domestic situations of working class Britons, living in rented accommodation and spending their off-hours drinking in pubs, to explore controversial social and political issues ranging from abortion to homelessness.
         In addition to the profession and the generation, Ken loach and Mike Leigh have much in common; they began their careers as directors at the BBC, they have both built a production system that guarantees them total independence; and their films often attract more spectators in France than in the UK.
         First of all, the screenplay of this movie focuses on a cheerful and optimistic primary school teacher and her relationships with those around her. Indeed, the term « Happy go lucky » is often used to describe a person who is incredibly optimistic and high on life.
         The main character is a 30 year old school teacher called « Poppy » (Pauline) who shares a flat with her best friend Zoe. Poppy is cheerful, high spirited, kind hearted and enthusiastic about everything. After her bike gets stolen at the beginning of the movie, she decides to learn how to drive. As soon as she starts taking lessons, her positive attitude contrasts with her intolerant, uptight and cynical driving instructor, Scott. He seems emotionally repressed, has anger problems and becomes extremely disturbed by Poppy's casual attitude towards driving. As Poppy gets to know him, it becomes obvious that Scott has racist, misogynistic and homophobic views, which makes it hard for him to get along with others.
         At school, Poppy sees that one of her pupils is bullying one of his classmates. She worries about him, and, after speaking with him she understands her student is being abused at home. A social worker, Tim, is brought in to handle the boy's case. We slowly understand that it's his mother's boyfriend who has been beating him. Tim and Poppy begin dating shortly after.
         Poppy, Zoe, and Poppy's younger sister, Suzy, go to visit another sister, Helen, who lives with her husband and is pregnant. Helen proves to be a very bitter and judgmental person; she tells Poppy she needs to « take life seriously », « not get drunk every night » and plan for the future. Poppy responds that she is happy with her life as it is. Helen tries to convince Poppy to be more responsible condescendingly telling her she is too childish, but Poppy insists that she is happy and ignores her advice.
         Returning home, Poppy sees Scott standing across the street from her flat, and when she calls his name, he runs away. When she confronts him he insists he had been visiting his mother at the time she saw him. Scott later sees Poppy with her new boyfriend, Tim, and he gets angry. During Poppy's subsequent driving lesson, Scott drives erratically while complaining about other drivers and society. When he gives Poppy the keys to his car, she tells him he is in no condition to give a driving lesson, and she will drive him home. Scott tries to get his keys back and physically attacks Poppy. She manages to escape his grasp. Then, in a long rambling diatribe Scott accuses Poppy of trying to seduce him, revealing his romantic feelings for her. Using patience and understanding to teach him a lesson, Poppy waits until he has calmed down then gives the keys back, telling him this lesson will be their last.
         The film ends with Poppy and Zoe together, rowing in Regent's Park, as Zoe advises Poppy she can't make everyone happy, Poppy disagrees and finally takes a call from Tim.
         This movies focuses on what is happiness and how easy it is to be happy through different characters who represent the British society: Scott who is convinced everyone is using him, or trying to hurt him and therefore gets angry very easily, the Flamenco teacher who leaves in the middle of her class because her boyfriend cheated on her, the homeless guy who is a witness of the economic crisis, the kid who gets beaten by his mother's new boyfriend who makes us aware of the social fractures…
         I personally enjoyed the movie, even though it's quite hard to understand the actress, who speaks with a very strong British accent, when you are not a native.
         This movie was really important for Mike Leigh; it was nominated to the Golden Globes and other award ceremonies. The film was also cited as one of the ten best films of 2008 by many critics.
Marie (Tle)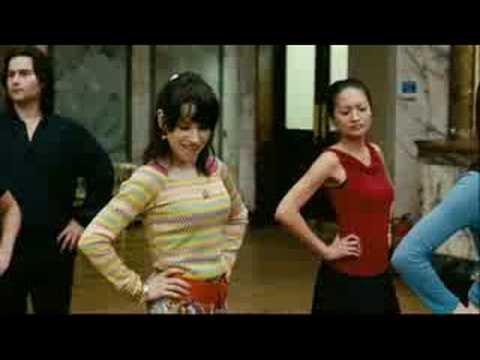 _______________________________________________________________________________________________________________________
"Be happy" is an English dramatic comedy by Mike Leigh & released in 2008. Mike Leigh is a British film director. He was born in 1943. With tones of both seriousness and humor, Mike Leigh's films aim at showing the struggles of ordinary people socially disadvantaged. This filmmaker follows the British tradition of Free Cinema in the way of examining the daily life of the working class people, keeping with them a certain distance despite the very hard situations they are going through. He also made the films "Secrets and Lies" and "Vera Drake".
This dramatic comedy is about Poppy, a young British teacher who is always happy and who looks at the brighter side of life. Throughout the film, we follow the life of Poppy and her relationships between her driver instructor, Scott, her best friend, Zoe, with whom she lives, a social worker, Tim and her sisters. She is always trying to feel happy but she finds out that it's hard for the people around her to be happy: they all feel alone and it's hard for them to communicate. She attends to the crisis of her neurotic driving instructor. Then, she understands that one of her pupils was beaten at home. She also sees her flamenco teacher breaking in tears during her class. She tries to help a homeless person but it's impossible because of his mental illness. She has a sister who is pregnant and wants everybody to feel envious for her.
She finally meets Tim, the social worker, who comes at school in order to help the child. They both are on the same page.
I didn't really like this film because I think that there is no link between all the scenes. We can say that this film can be considered as an important one for Mike Leigh because the film received three prices: including one during the Golden Globes Award.
Oihana (Tle)